---
Kotatsu Festival 2023 Programme NOW LIVE!
Here are the direct links to our programme pages for the Kotatsu Japanese Animation Festival 2023.
Due to unforeseen circumstances with our distributors, we can no longer screen Oblivion Island and Break of Dawn this year. Apologies for any inconvenience caused.
---
Feedback
If you have attended one of this year's festival events above, please fill in our feedback form. You can also vote for your favourite film for the Audience Awards. If you have not attended this year's festival events, please do not vote or take the survey.
---
Latest Posts
Kotatsu Festival Merchandise
At last, you can now get your hands on Kotatsu Festival merchandise at our new shopfront launched on RedBubble. We've uploaded some designs featuring our lovely kotatsu characters, courtesy of Chie Arai, and they are available across a variety of products. Just go to kotatsufestival.redbubble.com to check out what's on offer. More designs will be made available in due course.
All sales will help fund future events at the festival and will allow us to bring you more online workshops.
---
2022 Award Winners
---
Inu-Oh
Cardiff Critics Award 2022
Cardiff Audience Award 2022
Aberystwyth Audience Award 2022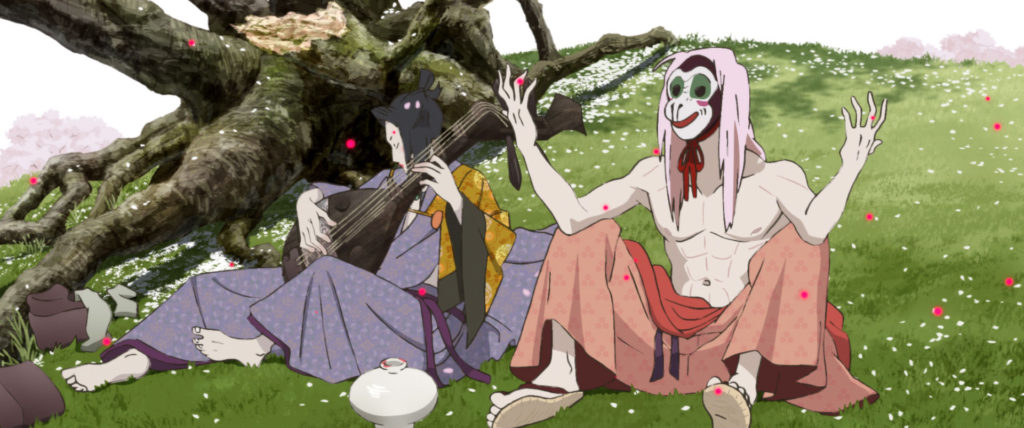 Message from Masaaki Yuasa, Director:
Chapterでの批評家賞と、ChapterおよびAberystwythでの観客賞をいただいたと聞き、とても感激しています!!

「犬王」は日本の昔の話で、理解が難しい部分もありますが、ああいう出来事や人々はどこにでもあったと思います。ウェールズの皆さんにも支持していただいて大変嬉しいです。

ありがとうございました!!

I am very excited about the news that "INU-OH" received the Critics Award at Chapter and the Audience Award at Chapter and Aberystwyth!!

"INU-OH" is a story which takes place in old Japan, and although some parts of this film must be difficult to understand, these kind of events and people could have happened or existed everywhere. I am very happy that the people of Wales appreciated this title.

Thank you very much!!
---
The House of the Lost on the Cape
Aberystwyth Critics' Award 2022
Message from Shinya Kawatsura, Director:
コタツ日本アニメーションフェスティバルでの受賞とても嬉しいです!

この作品は2011年3月に起こった東日本大震災から数ヶ月後の小さな町でのお話です。

あまりに大きな震災は、日本人に強烈な印象を残しました。そのためそのことについてはほとんどセリフにしていません。絵を見れば充分以上にわかるからです。

こういう言葉少ない作品が遠くイギリスの皆さんにどう伝わるかとても楽しみです。ささやかな出会いのお話しでもあり、少しでも癒される時間でもありたいと思って作りました。いつかウェールズにも行ってみたいです。ありがとうございました!

I am so glad to receive an award at the Kotatsu Japanese Animation Festival.

This film is a story in a small town, a couple months after the Great East Japan Earthquake that happened in March, 2011.

This enormous earthquake disaster left a strong impression on the Japanese. Therefore I hardly wrote any dialogue about it. Simply because if you see the images you can understand more than enough.

I am very much looking forward to knowing how this film with less dialogue reaches the British audience.

It was a story about small encounters, and I made this film hoping, it will also be the time for people to heal even a little.

I would love to go to Wales one day. Thank you very much.
---
Message from Takahide Hori, Director:
イギリスでの受賞とても嬉しいです。
制作当時はこういったニッチな作風は一般受けはしないだろうと思っていたのですが、いざ公開されると多くの方に評価を受け自分でもびっくりしました。
更にこうやって海外の人にも受け入れられて大きな自信になっています。
現在続編を制作中なのでまた多くの人に見て頂けるよう頑張ります。「JUNK HEAD」堀貴秀監督 

I am very glad to receive an award in the UK. When I was making it (Junk Head), I thought this kind of niche style may not be generally accepted. I am surprised that when this film was released, many people received it positively. Additionally the fact my film has been accepted by people overseas has given me great confidence. I am currently working on a sequel so I'll do my best, and hopefully again my film will be watched by many people.
---
Visit our Awards page to see all our previous winners.
---
Personal Messages
---
Takeshi Yashiro – Award-winning Director and Stop-motion Animator
It is a great honour for me to be invited to the Kotatsu Japanese Animation Festival. Gon – The Little Fox is a heart-breaking story, but it will also leave you feeling serene. It's set in a time and place where humans and beasts used to live close to one another. The stop-motion animation brings the rustic landscape of the Japanese countryside back to life. So sit back and enjoy.
---
Prof. Yuichi Ito – Prof. of Animation, Tokyo University
Hello! KOTATSU Film Festival! It is a great honour for me to be invited. Japanese animation is full of very wide charms. British animation is the reason I started to make clay animation, and this time I am looking forward to introducing my speciality, Japanese stop-motion animation, to you. I am going to bring my puppets which I used in my film. Please talk to me when you see me at Chapter.

Translated by Eiko Meredith
---
Isao Takahata – Director, Co-Founder Studio Ghibli
I am delighted to hear that this Japanese Animation Film Festival will be held at Cardiff, a city with a tradition of hosting film festivals. When I was informed that the title of the Festival was to be KOTATSU, I immediately felt something of a personal affinity; it was very much a serendipitous moment for me. By sheer coincidence one of my own films "Hohokekyo Tonari no Yamada-kun" (My Neighbors the Yamadas) has many scenes based around the kotatsu, a Japanese style of room/body heater. The image of sitting around the kotatsu symbolizes the pleasure of happy family life in Japan. If you ever have the opportunity to see the film you will understand what kotatsu means. And that's why I am particularly pleased to be able to wish every success to the KOTATSU Film Festival.

Translated by Midori Matsui
---
Yasuhiro Yoshiura – Director: Patema Inverted
今作『サカサマのパテマ』は、国を問わず、そしてアニメファンであるか否かを問わず、より多くの方々に楽しんで頂けるようなアニメーションを目指して制作されました。こたつ日本アニメーション映画祭にご来場の皆様、どうか本作をめいっぱい楽しんで下さい!

'Patema Inverted (Sakasama no Patema)' appeals to people globally, whatever their language and culture, whether they are devout fans of animation or not. I very much hope that everyone who visits Kotatsu Japanese Animation Film Festival 2014 thoroughly enjoys the first Welsh showing of this film.

Translated by Midori Matsui
---
Tsuneo Goda – Director: Komaneko
The Kotatsu Film Festival is such a lovely name for this festival of animation. Thank you once again for inviting me to participate in the festival. Komaneko is presented using 'cat's language'. Some parts are also shown in 'dog's language'. The film should therefore be enjoyed by Japanese and British people, and indeed by people the world over, whatever their language. I would be thrilled and delighted to know that you enjoyed my film.
---
Sayoko Kinoshita – Director, International Animation Festival, Hiroshima
I visited Cardiff in 1992, when I cooperated to curate special programs of Japanese animation for an international animation festival held in Cardiff at that time. I remember that I felt very relaxed during my stay, where I enjoyed the comfortable atmosphere of this historical city, and also, by many people I met at the shopping centre who were so kind and warm. I even thought of living in a city like Cardiff! Perhaps, the Welsh language might have given me a warm impression too.

Then, in HIROSHIMA '98, I was very pleased to show a very strong special program of Welsh Animation, having originality and individuality in variety, and I also showed the program in Okinawa after our festival. At that time, I was delighted to learn the unique history and climate of Wales, reflected in the films. As such, I truly hope the Kotatsu Japanese Animation Festival 2010 will provide a good opportunity for Japanese animation film-makers to spread their animation culture in Cardiff, the capital of Wales, as well as to study the very high-quality British animation art too.

I also hope that the Festival will serve as a good site for friendship and exchange, just like a family gathering at Kotatsu, supporting many Japanese animation film-makers to become very successful internationally.
---