Thank you for all your support for Japan. They are, of course, still having a very difficult time with the huge amount of work involved in rebuilding the region, re-housing those who lost their homes and still battling the Fukushima nuclear disaster.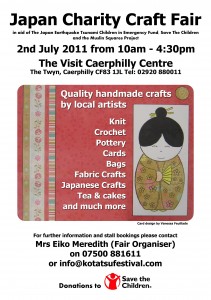 In light of the crisis our Festival Director, Eiko Meredith, has decided to hold a special Japan Charity Craft Fair in Caerphilly, in order to raise money for the Earthquake Tsunami Children in Emergency Fund, Save the Children.
Sadly children are the most effected by radiation, and their risk of cancer from radiation is 10-100 times higher than an adult exposed to the same amount. Children grow more rapidly than adults, and their higher rate of cell division means they are at greater risk because radiation can disrupt the cell division process, leading to cancers, mutations, deformities and abnormalities. Unfortunately Fukushima, like Chernobyl, could continue to be a problem well into the future, and its effects could cause severe problems not only for the current generation but also for generations to come.
So, please come along on 2nd July from 10am to The Visit Caerphilly Centre and support the fair, and we hope the money we raise will help the children in Japan to have a chance at a better future. At the fair, there will be wonderful handmade crafts by local artists, such as Knitted &Crochet gifts, Pottery, Japanese crafts and lots more. Full details are available on the poster here (click it to open a larger version).
Kotatsu Festival Update
Also, we haven't forgotten about the Kotatsu Festival! Eiko has been very busy working away recently, but is now back and ready to take the reigns once again to organize this year's event. We will post updates here as soon as we have further news.
---