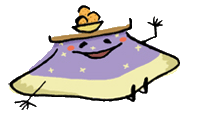 At last, we have a confirmed date for this year's Kotatsu Japanese Animation Festival. We are happy to announce that the festival will take place on Friday and Saturday, the 25th and 26th of November 2011.
As last year, we are having Japanese short film screenings at the Atrium on the evening of the 25th. Last year's screenings showcased some great short animations from up and coming artists across Japan, and this year we hope it will be bigger and better. Also showing will be some of the students' work from the University of Glamorgan animation course. Afterwards will be drinks in Gwdihw for those wishing to carry on.
Then on the Saturday 26th, we will have the usual Japanese Marketplace throughout the day at Chapter Arts Centre, with lots of Japanese themed merchandise on sale. Local entrepreneurs Otakuzoku will be there again, bringing their retro video-games, manga, comic-books, and toys – both from the UK and imported directly from Japan. Yakiniku, a local Korean/Japanese restaurant will be providing food and snacks for all tastes. More retailers to be confirmed.
We are still in negotiations to secure the main feature film for the weekend, but rest assured we are trying our best to bring you another blockbuster Welsh premiere. More details to be announced as soon as we have confirmation.
And of course, don't forget the raffle! Make sure you get your tickets to be in with a chance of winning some great prizes. Check out the Raffle page for the current list of prizes. We have lots more prizes still to come, so keep checking back.