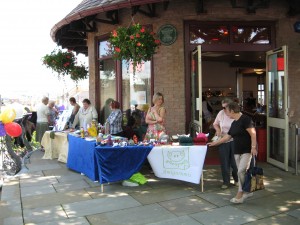 We would like to report that Japan Charity Craft Fair held yesterday in Caerphilly was a great success. We had lovely weather with lots of people turning up, and we raised £320 pound, this goes to  Save the Children Japan Appeal and also Muslin Square Project. Thank you so very much for all your support for children and parents who were effected by disaster in Japan. We had lots of fantastic stalls such as Amigurumi artist greenpixey, local artist Steve John, handmade cards by  Vanessa Feuillade, local artist who makes personalized dolls Itsameedoll and so on.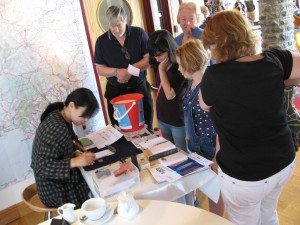 The most popular event was a Japanese Calligraphy demonstrations by London based artist Yukiko Ayres. This was a very rare chance for people in Wales to see professional Japanese Calligraphy. People were gathered around Yukiko  all the time and asked to write their names in Japanese. It was very nice of Yukiko to come down to Caerphilly to show her support.
Lots of children lost their parents and family, and because of the severe damage of the tsunami and the long term effects of radiation, people in the disaster area need long term support. So please keep thinking about Japan, and supporting them.
---